Some years ago there was a photoelectric sensor with a contamination indicator as additional feature.

If the front window of an optical sensor is contaminated by external influences, the optical sensor can no longer "see" so well and the function can be impaired. In the worst case, the sensor suddenly fails because it previously tries to compensate for the soiling of the window by amplifying the signals up to a certain limit.
Failure of the sensor during operation due to dirt or dust, can of course be prevented by regular cleaning. Such regular planned cleaning is then called preventive maintenance.
However, this involves effort and must be done at a time of planned downtime. Circumstances are not always such that the contamination then also reaches the permitted level. This depends, for example, on the running time of the plant and the processed material.
Therefore, a sensor was developed that could independently detect contamination of its lens and generate a signal when a certain degree of contamination was reached. Then the user was informed by the control system that cleaning was necessary before the sensor could no longer function correctly due to the impairment. Here, one can already speak of condition-based maintenance.
However, there are also many other influences, in the simplest case a sensor or its mounting plate is misaligned by external influence or the bracket is bent. Basically this such a deflection is something a sensor itself cannot detect this.
Here, for example, a built-in tilt sensor would be helpful to detect such a movement. Above all, data such as vibrations but also temperatures are very well suited to provide feedback on the current system status.
The SAMS system (Smart Automation & Monitoring System) is about sensors with exactly such extended functionality.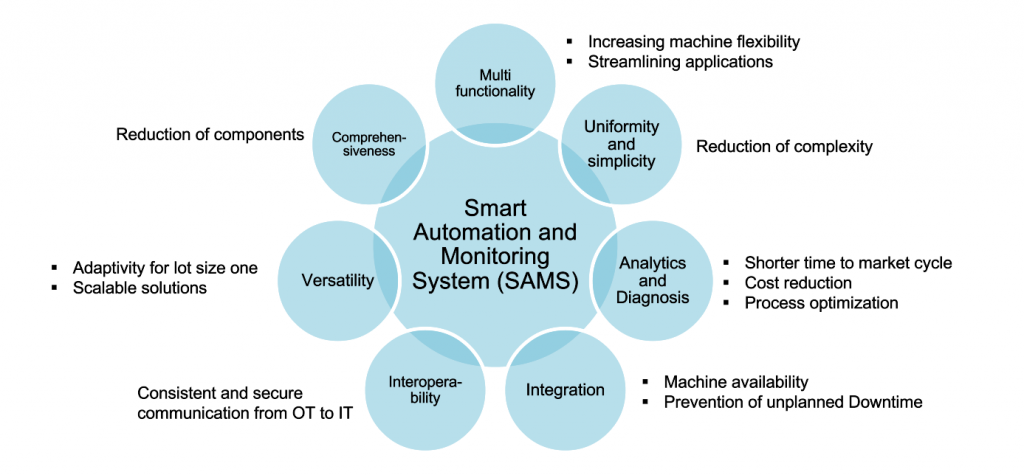 The functionality behind SAMS is nothing entirely new rocket science, but some of the requirements and wishes of endusers as well as machine builders had been considered during development of the Smart Sutomation and Monitoring System.
Basic requirements of a smart production can be fulfilled with the features of SAMS.
Less downtime and an increased OEE are key targets of smart manufacturing.
Increasing Overall Equipment Effectiveness (OEE)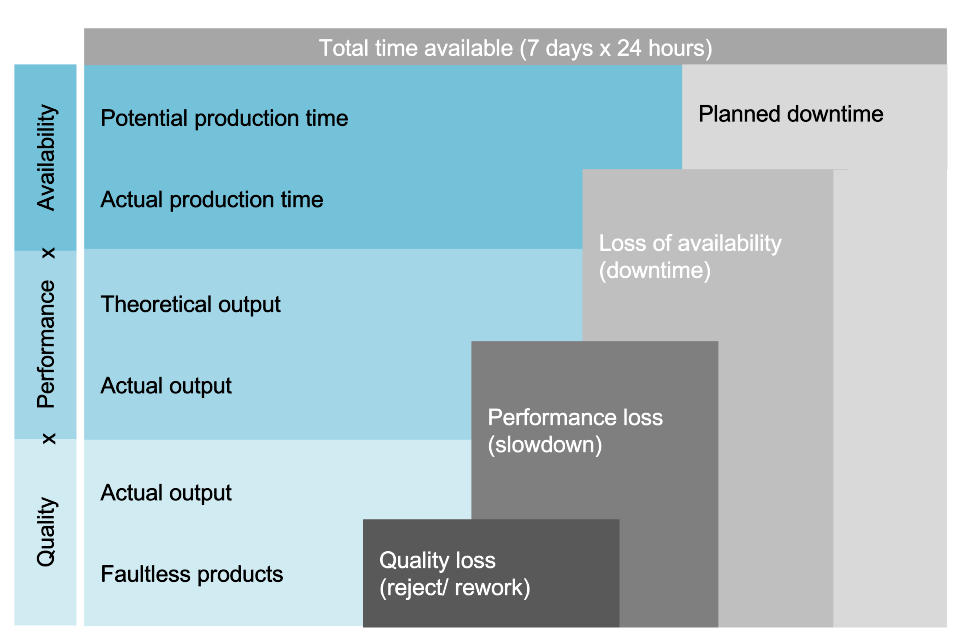 What is a Smart Automation and Monitoring System?
In the Balluff documentation you will find e.g. this description:
"The Smart Automation and Monitoring System (SAMS) represents Balluff's comprehensive automation philosophy.
Thanks to its uniform and standardized operating and configuration concept, long commissioning times, high training costs and time-consuming troubleshooting in the event of unexpected device failure are a thing of the past.
In addition to process and status data, our intelligent components provide you with valuable uniform diagnostic data.
As a result, they open up completely new possibilities for you – from monitoring the condition of machines and systems (condition monitoring) to condition-based/predictive maintenance and even completely new business models."
The innovative Smart Automation & Monitoring System for optimized Performance
Increasing the efficiency of machines and plants requires powerful, multifunctional solutions that provide data on the machine condition in addition to the machine control. With the condition monitoring information obtained from this, the performance of each machine and thus of the entire plant can be optimized so that you can design processes efficiently and flexibly.
Reduction of both planned and unplanned plant downtime
Condition-based or predictive maintenance
Predictive maintenance, in contrast to condition-based maintenance, is the addition of a further step.
With the help of the data acquired about the current state of a plant and from previous events, learning algorithms are used by means of industrial IoT to predict occurring events such as the failure of plant components. This turns precautionary measures and unplanned events into controllable and plannable maintenance activities with correspondingly lower costs. Machine damage can thus be avoided.
Smart Sensors with additional features for condition monitoring
Smart sensors such as those offered by the SAMS sensor portfolio are ideal for obtaining the most comprehensive data possible about a plant with little effort. Sensors used to control a machine are mounted and wired at various points. Gaining additional information from them is possible with little effort. With IO-Link, this additional data can easily be transferred to the control system or a higher-level system via the existing cables without any additional hardware effort.
Find more details about the smart sensor features in this post

Of course, additional sensors can be installed at other predestined locations, such as this condition monitoring sensor, which detects temperature, humidity and air pressure in addition to vibrations.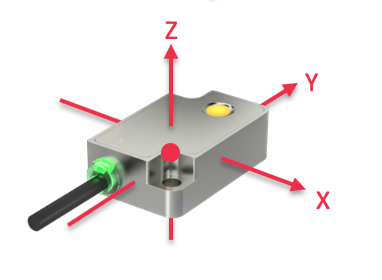 The Balluff SAMS system was originally planned for use in the food and packaging industry, but is now used in many areas of automation technology.
BALLUFF SAMS – INCREASING EFFICIENCY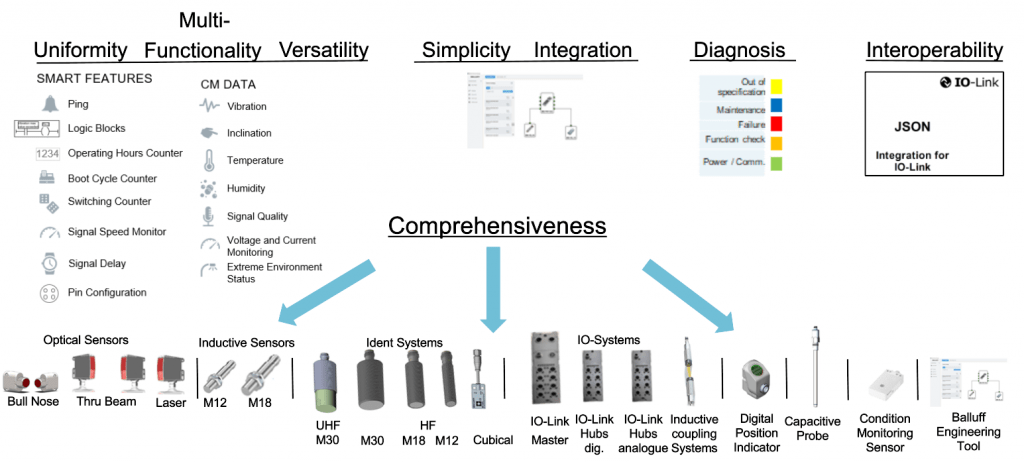 Following some answers on frequently asked questions FAQ about the Smart Automation and Monitoring System:
FAQs – Everything you always wanted to know about SAMS…
Can SAMS only be used for the food and packaging industry (PFB)?
NO!! The functionalities and additional information in the SAMS system can be used for ALL industries. Reducing downtimes and thereby improving the effectiveness of machines and systems is a cross-industry issue. The fact that some SAMS components were implemented in the washdown housing means that they can be used particularly well in the cleaning environment, but not exclusively.

Do I always need an IO-Link master for SAMS?
NO!! All SAMS devices can also be switched to SIO (Standard Input / Output) mode and can therefore also be used in topologies without IO-Link. In principle, not even a fieldbus system is required. All the SAMS devices can also be connected directly to e.g. I / O cards of a PLC.

Can I also use the additional functions of the SAMS devices without IO-Link communication?
YES!! Although configuration is always carried out via an IO-Link unit (e.g., USB master), pin 4 of the SAMS device can be switched to SIO mode and any additional information such as alarms on vibration, inclination, signal quality, etc. can be digitally transferred to pin 2 are issued. If actual values are required (inclination value, signal quality, etc.), these can also be output in analog form via pin 2.

But then I can only output one single, additional information via pin 2, right?
NO!! Using the integrated logic blocks in every SAMS device, all information available in the device can be interconnected using Boolean Blocks (AND, OR, NOR, XOR) and new information can thus be generated.

Can I use other IO-Link masters in addition to the new Washdown IO-Link master?
YES!! The new Washdown Master (BNI00EK) offers additional condition monitoring functions and a very helpful visualization of the CM values of the connected SAMS devices in the web server but is not mandatory for the operation of a SAMS system.
All SAMS devices are 100% IO-Link devices and follow the IO-Link specification without restriction. This ensures that the SAMS devices can be operated with every IO-Link master available on the market. So also, with all other IO-Link masters from the Balluff range.

Can other devices be used with SAMS?
YES!! A topology can be set up from SAMS devices, standard IO-Link devices and devices even without an IO-Link interface. Third-party devices from other manufacturers are of course also possible here. Of course, the standard IO-Link devices from Balluff or competitors do not provide any additional information (vibration, signal quality, …) and do not have the additional functions (ping, logic blocks, …) on board. Just like the devices that are equipped without any IO-Link interface. Nevertheless, these devices can also be operated with SAMS devices in a common topology.

Do I always need SAMS software for SAMS?
NO!! There is no SAMS software in this form. The Balluff Engineering Tool (BET) is always advertised in connection with SAMS, but also with the standard IO-Link solutions from Balluff. This is an extremely powerful tool for configuring and diagnosing IO-Link devices. The BET can not only be used for SAMS devices and is also not mandatory for the operation of the devices. Parameterization, diagnosis and configuration of IO-Link devices (including SAMS) can, as usual, also be done using other tools. E.g., within the higher-level PLC using function blocks or the GSD data of the IO-Link master, or within the integrated web server, e.g., a Balluff IO-Link master.

SAMS doesn't make any sense without visualization, does it?
Even without Balluff offering a visualization solution, the SAMS unfolds its full capabilities. The SAMS is initially the data generator for all higher-level IIoT tasks. All information that is visualized, analyzed and evaluated in the IIoT environment must first be generated. This is exactly one of the core tasks of the SAMS. Users who already have a higher-level IIoT platform can use this data directly via the integrated REST API interface in the IO-Link master. Visualizations can also be created very easily with open tools such as NODE-RED. In addition, the SAMS devices can also be operated on the CMTK (Condition Monitoring Tool Kit) and the values can be visualized directly.

Are the SAMS products now replacing the Condition Monitoring Sensor BCM?
NO!! The idea behind the SAMS is to generate basic information about the machine situation at any point on the machine. If one or more pieces of additional information are required at a certain point in addition to the actual automation task, such as the detection of objects, this can be implemented with the component that is used at this point anyway, namely for object detection e.g., an optical sensor.
However, the information is of a more fundamental nature such as vibration exceeds a specified limit value, signal quality falls below a certain level or moisture in the internal only component has been detected. If more precise information such as
vibration value in different axes or analyzes is necessary, the BCM, for example, is the better choice.
The BCM is certainly the better solution for retrofitting existing systems in order to generate condition monitoring information.

Aren't there too many functions in the SAMS devices?
NO!! All additional information and additional functions are options in the devices that can be used, but do not necessarily have to be used. The user can select the functions that are necessary for his automation, specially tailored to his requirements. He doesn't need to worry about which components he needs for which additional information, since the SAMS concept means that all information and functions are uniformly available in all devices.

Aren't the SAMS components much too expensive?
NO!! Compared to the unbelievable amount of information and function, the price of the components is rather low.
For pricing, products from competitors with the highest possible functionality were used as a comparison. The SAMS products were priced in the same range, although the function and additional data are many times higher than in the competing products

How many SAMS devices are there already, and which are still planned?
As of today, several optical and inductive sensors are available, as well as the washdown master, analog hubs, digital position indicators and a number of RFID read/write heads. We are expecting the digital I/O-hubs and a capacitive probe with SAMS functionality shortly. Further optical and inductive sensors as well as a BIC system and process instruments for flow or temperature measurement are in planning.

Will other SAMS devices be available in the future?
SAMS is an ideology, an automation philosophy! To be able to offer comprehensive and complete automation solutions on the basis of IIoT and increased efficiency, the SAMS system must belong to the standard Balluff portfolio and thus provide more and more solutions for this type of application in the future.

Are there comparable systems from other suppliers?
NO!!! There is no comparable system in the market. Some products are promoted with slogans such as "Digital Transformation" or "IIoT Platform", but if you examine these systems more closely, you will find that the components advertised here all have only a very small fraction of the functions compared to the SAMS.

What is the position of the IO-Link community on the topic of SAMS?
The SAMS is being monitored very closely by the IO-Link community. It is to be expected that further providers will offer such high-performance systems in the future.
The need for a possible condition monitoring profile is already being discussed in the IO-Link consortium to make the mapping of the additional information within a device uniform for the user.

The next blogpost gives you more details on the smart sensor features of the SAMS system
Read more about the Smart Automation and Monitoring System and condition monitoring on our website. If you have further questions, please get in touch with me
Read also about predictive maintenace: Identifiy Failures Before They Happen – The PF Curve
Find here a recording of a detailed presentation of the SAMS System in Packaging, Food & Beverage Industry