In industrial production so far sensors and actuators have been integrated into applications via "hard wired" cables. Now however, with increasing automation degree and technological progress wireless communication (Link IO-Link Wireless) enters the up to now conservative field of industrial production.
An example is automatic feeding and unloading of workpieces at machining centers.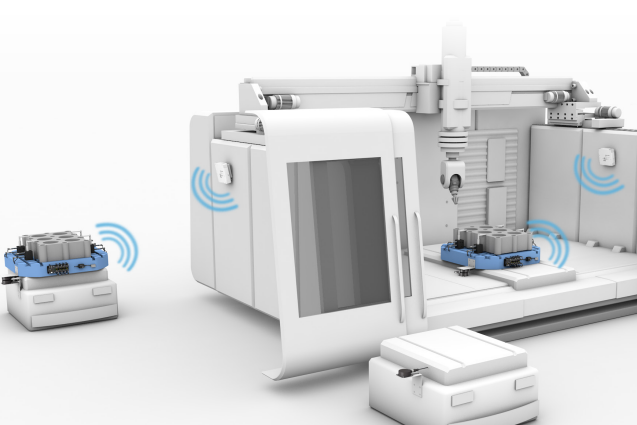 The clamping status of a workpiece on a palette is permanently monitored and sent to the control system via wireless transmission. So even during the exchange process of palettes in machining centers the clamping status of the workpiece is constantly controlled, admittedly safety aspects have to be covered with other measures.
Reliability of data transmission is a key feature for industrial applications. Another important point is the compatibility between both hard-wired topology and wireless solutions as it is expected that both will be implemented in parallel at industrial applications and will coexist.
IO-Link Wireless and classical IO-Link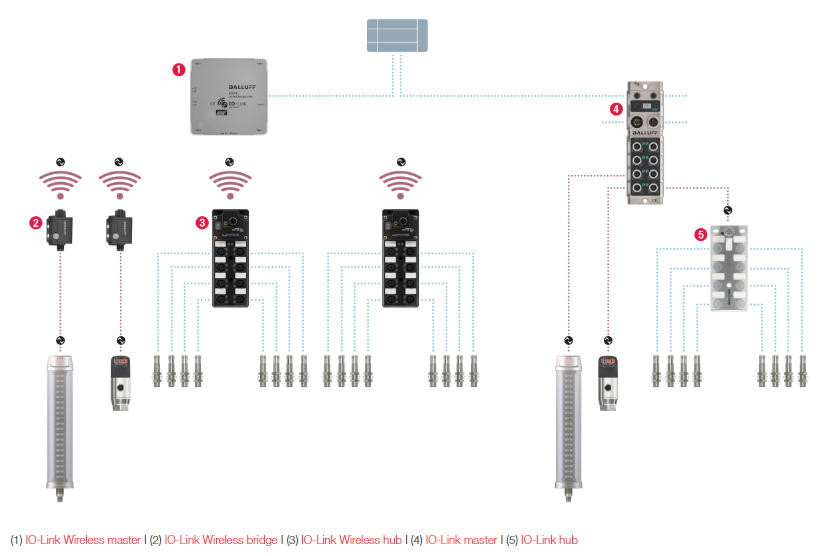 Another application for wireless communication are assembly machines with rotary tables.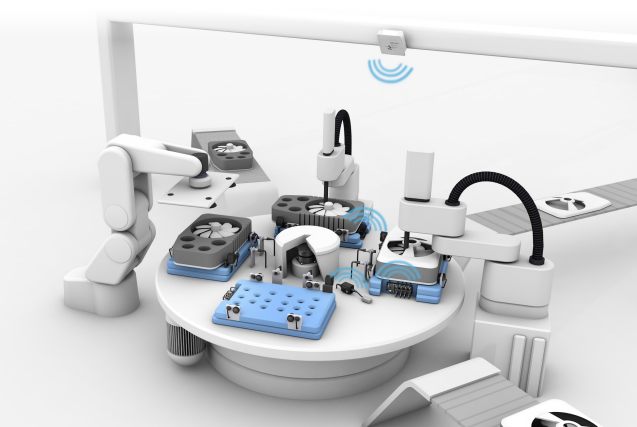 These machines may be designed with a high modularity concept. An economical example is the use of exchangeable rotary tables in combination with robots or cobots: This increases flexibility for also small batch sizes and a large variety of parts with reduced changeover times.
The modular concept of interchangeable rotary tables is made even more efficient and future-proof by the use of wireless technology. Rather than connecting sensors with cable, sensor send their data via wireless technology.
Signals of sensors with switching output are collected in a box with e.g. 8 inputs. For sensors with IO-Link interface a "IO-Link wireless bridge" may be used to transmit the data. IO-Link Wireless Devices.
The data are sent to a "IO-Link wireless master" which is configured like a wired "IO-Link master" IO-Link Wireless Network Blocks.
With IO-Link Wireless a reliable solution for wireless data transmission is available. Advantages are in easier planning and installation, flexible integration of sensors and actuators, facilitated upgrade of existing systems and installations. Link