(Basic information on the smart sensor system Smart Automation and Monitoring System you find in this previous post)
Smart sensor functions and diagnostic options for components of the Smart Automation and Monitoring System SAMS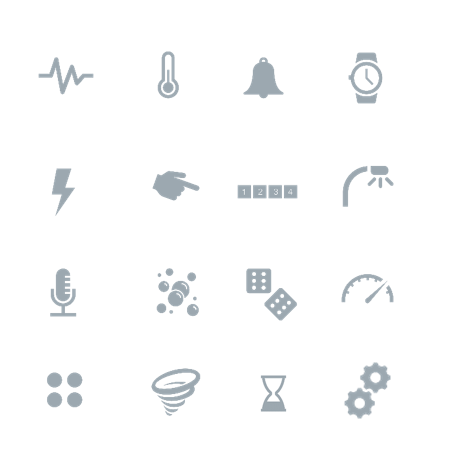 SAMS Features
According to our "take one" principle, all SAMS components, e.g.
optoelectronic, inductive, capacitive sensors.
Identification systems: RFID read/write heads.
I/O modules
Software (engineering tool, visualization)
uniformly configure, operate, and quickly change over in the event of changing requirements, as well as immediately merge all data.
Advantages
less planned and unplanned machine downtime, thus more efficiency
less scrap, thus more effectiveness
higher machine and system availability and thus maximum productivity
reduced familiarization and training effort
SAMS functionalities of smart sensors

Vibration

Monitoring of vibrations, detection of imbalances directly at the installation location of the device. For example, the optical sensor, which is mounted on the conveyor belt and detects beverage crates or bottles, can simultaneously determine vibrations occurring on the belt drive.

Inclination detection directly in the component. For example, it can be recognized immediately that a sensor is no longer in its original position after mechanical stress. This can be done through mechanical impact or high-pressure cleaning.

Monitoring of the internal temperature of the device used. The temperature can be influenced by an internal device error, by overload such as overvoltage or short circuit, or by changes in the ambient temperature.
Humidity

Internal humidity monitoring. If moisture enters the device, an alarm can be triggered. The ingress of moisture could occur in cleaning zones after mechanical stress or damage to the devices.
Voltage and current monitoring

The current and voltage monitoring function in all devices is used to detect overvoltage or short circuits in the device.

The quality of the incoming signal is monitored. The impairment of the signal quality can have different causes in different devices. With optical sensors, for example, a reduction in the signal quality can be attributed to a dirty lens. With an inductive sensor, this can be caused by being too far from the target. With RFID systems, e. g. through metallic foreign bodies in the work area.

This function can be used to check how often and for how long a device has been in extreme environmental conditions. The limit values ​​of the parameters for extreme conditions such as ambient temperature and vibration can be set by the user. This makes it possible to draw conclusions about the cleaning cycles that have taken place so far.
LED diagnostics

All components have a standardized, comprehensive LED diagnosis concept integrated.The status of the device is directly visible on the component itself. All LED diagnosis messages are equal in any SAMS component.
Operating hours counter

All devices have different operating hours counters. A general one that cannot be reset and provides information on how long the device has been in operation. Another that can be activated and reset by the user. Machine running times can also be monitored here.
Boot cycle counter

The boot cycle counter is increased by 1 each time the device is started. This can be used to monitor, among other things, how often the machine was switched on and off in a certain time. This is useful for monitoring start-up procedures when setting up machines..
Switching counter

In order to relieve the higher-level control, the counting of detected objects can already take place in the sensor itself. This helps also to handle high speed signals.
Signal speed monitor

The Signal Speed ​​Monitor provides information on whether signals from a sensor are recorded within a time window that can be defined by the user. This allows changes in the dynamics of an application, e. g. resulting from mechanical disturbances, to be recognized early.
Time element (signal delay)

In order to reduce the signal jitter in a system and to achieve the greatest possible synchronization of the signals, it is possible to adapt each component to the overall performance of the system and to achieve signal synchronicity via delay settings.
Device Discovery (ping)

Every device in the system can be identified by the DEVICE DISCOVERY function. After sending a DEVICE/DISCOVERY command, the device responds visually with a blue flashing LED.
Logic blocks

All available internal and external signals and information can be processed into new information via logic links. For example, exceeding the internal temperature limit value and exceeding the vibration threshold value can be linked to a new signal. This is reducing the load in the PLC.
Pin configuration (sensors only)

The pins of each sensor device are freely configurable. Pin be used both as a digital input / output and as an analog output. This enables the user, for example, to use the component outside of an IO-Link topology by outputting the switching or measurement signals directly on pin 2 and not or additionally via IO-Link. The use of pin 2 for any signals also offers a speed advantage through direct communication with the higher-level controller.​
An overview of the Smart Automation and Monitoring Systems you find in this blogpost
Further informationen on the SAMS System and condition monitoring on our Balluff website.