Manual, paper-based processes in intralogistics are inefficient, inaccurate and not scalable. RUCH NOVAPLAST, a manufacturer of product solutions made of particle foams, now uses RFID systems to track transport trolleys at every stage of production. This provides greater transparency in the manufacturing process.
The problem: Manual, paper-based processes in intralogistics
RUCH NOVAPLAST, based in Oberkirch, is an innovative company with a focus on product solutions from particle foams. The service portfolio is dominated by technical applications made of expandable polymers for the automotive, heating and ventilation industries.
At RUCH NOVAPLAST many different products are manufactured in a multi-stage production process. For this purpose, various types of machine are available in production for the foaming of a wide variety of parts. The parts produced on the machines are first systematically placed on standardized trolleys and transported on them to the downstream buffer areas and production stages. Once all production stages relevant for the respective part (also referred to as working steps) have been completed, the parts are unloaded from the transport trolley and packed according to customer specifications.
Until recently, the transitions from one operation to the next, or from one operation to the buffer areas, were either not recorded at all, or only by paper-based procedures. This resulted in manual booking effort as well as inaccuracies in data entry and subsequent limitations in data evaluation.
To increase future efficiency and data accuracy, the company decided to largely automate these processes. The automatically collected data will in future form the basis for dynamic display within the respective production stage and will serve as a database for the optimization of intralogistic processes and improved resource utilization.
The solution: Balluff RFID transponders confirm every step of the process
Together with the employees of RUCH NOVAPLAST, Balluff developed a modular and easily expandable solution based on RFID, which can be supplemented with additional sensor technology at any time.
RFID technology (Radio-Frequency Identification) is an efficient and cost-effective way to automatically detect transport trolleys. An RFID transponder with a unique identification (ID) is attached to each trolley. All production stations receive permanently mounted RFID read/write devices with which the trolleys are booked in and out.
As soon as one of the transport trolleys reaches the station, the RFID evaluation unit reports the trolley's ID information to a middleware component that runs on an industrial PC and serves as an interface between OT (Operation Technology) and IT (Information Technology) layers. It operates the RFID devices and, if necessary, signal systems and additional sensors. The data exchange is done via hardware-specific protocols, the data transmission to the MES via standard interfaces like a REST-API.
The employee sees on a display at his station that the ID is registered and he can continue with his work. The middleware provides the recorded data with a time stamp and sends it to the MES. There the RFID data is combined with the corresponding machine and production data. As a result, all relevant data for production can be found in one central location.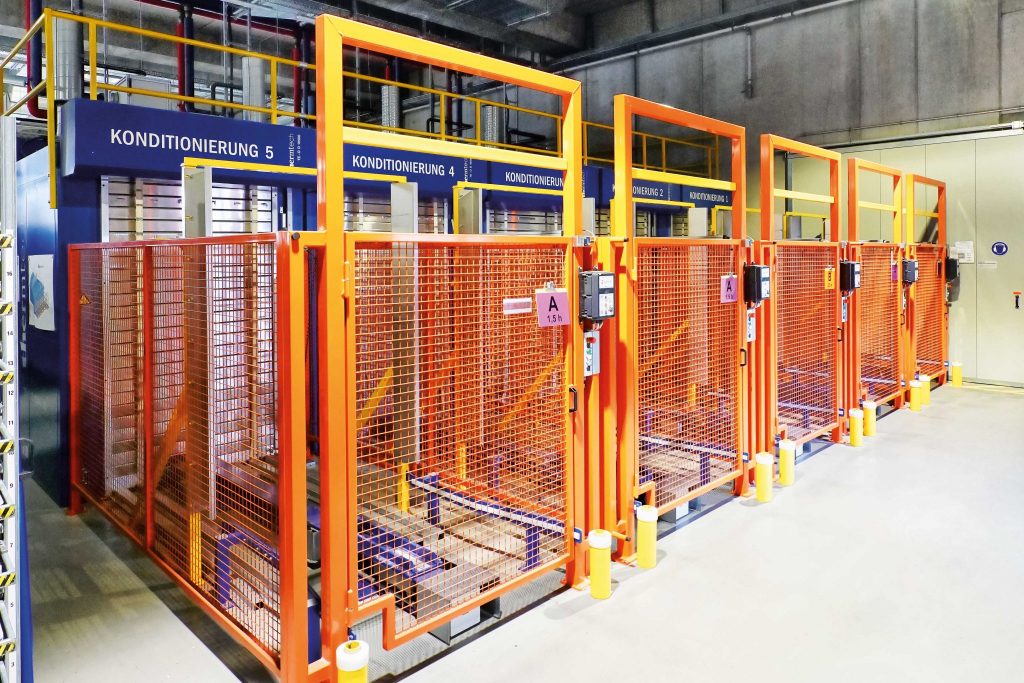 The result: empty operation and production backlogs are avoided
Since the individual work steps are now booked automatically, employees can now see the location, status and job assignment of the internal transport trolleys at a glance. This means that the trolleys are at the workstations at exactly the right time. Empty operation and production backlogs are now a thing of the past.
Since each workstation is networked, the employees can also see all process steps on a display, or can see which transport trolleys are in the respective work step. The logical and modular system structure also allows RUCH NOVAPLAST to change and expand processes at any time.
But networked machines have further advantages: they generate a valuable database for determining key performance indicators (KPIs) that allow further analysis, for example on topics such as production flow and speed. Since a large amount of data is generated in real time, production transparency increases and companies save costs in the long term through greater efficiency.