In industrial machining processes the control of the thermal machine stability is essential to achieve the required quality of the machined product and to protect the cutting tool in use.
Flow sensor application in metalworking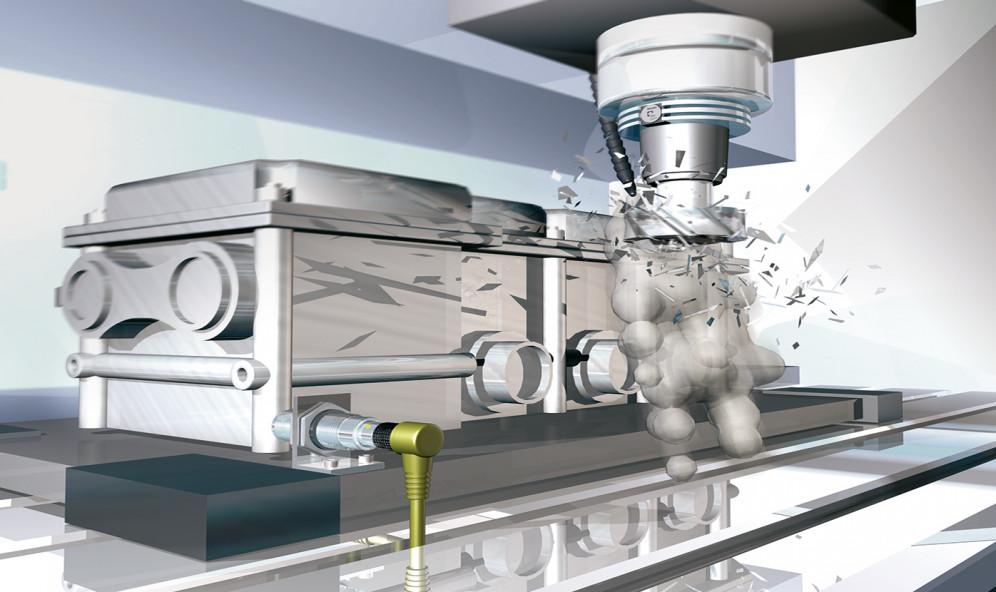 Especially in series production the milling feed rate (tool traversing speed) is constantly optimized to achieve a maximum of output rate under consideration of efficiency. In order to avoid the risk of damage for workpiece, cutting tool and machine a constant monitoring of the cutting liquid supply is essential.
For many years flowmeters with floating bodies and magnetic field sensors were used in order to control the minimum flow of the provided cutting fluid. The sensing principle of floating bodies yet is susceptible  to incorrect measurement due to dissolved solids in the cutting liquid, which tend to stick to the flowmeter components.
Calorimetric sensing principle
Flow sensing which is based on the thermodynamic principle work with two measurement points in the sensing element. The first measurement point detects the medium temperature itself and the second measurement point is heated a few degrees over the media temperature.  Depending on the flow rate and the heat capacity of this medium it will cool down the heated measurement point. The temperature difference between both measurement points is an indicator for the flow rate.
The electronics compares the values with a preadjusted setpoint (e.g. by using a potentiometer screw) and sets a switching output as long as the flow rate exceeds the preadjusted setpoint value.  
Advantages of calorimetric flow sensors
Easy to integrate in a machine concept (due to its compact sensor housing)
Reliable sensor principle (wear-free without moving parts which could be hindered in movement by liquids with particles)
Flexible: One sensor type may be used for different nominal tube diameters
Economic, as this sensor principle causes only a very low pressure loss
For rough applications with high operating pressures (some sensor versions are rated to liquid pressures up to 100 bar)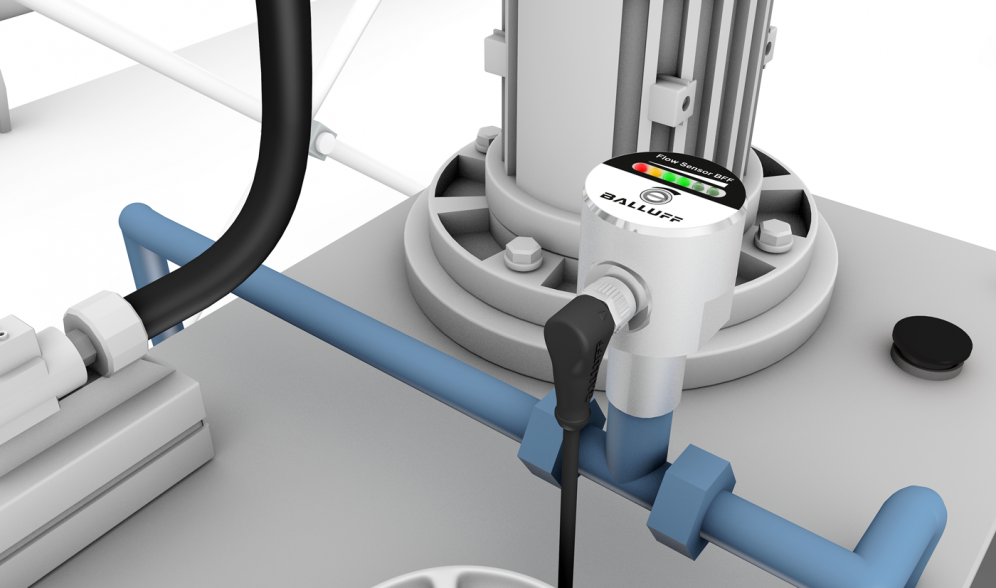 Screw-in versions of flow monitor sensors are used in many cases as they can easily be installed by using a tee-piece. For smaller volume flow so-called "inline versions" (mounted between two tube ends) may be used.

Link to product finder for flow sensors on our website.
Often flow sensors are used in combination with temperature sensors to control process media