In Metalworking a significant part of the products are realized by metalforming and stamping processes, especially for series applications. The monitoring technology for press control has achieved a remarkable progress within the last years.
Optimized cycle rates lead to increased productivity and output. At the same time, there is a rising risk of asset damage, especially if unexpected errors occur. Automated protection of the tools and dies helps to increase OEE. Sensors for process monitoring are key elements. 
Feed control
An easy way to monitor the feed of the strip is by using inductive sensors which detect features like changes in the edge (see sketch "Feature-Form") or already stamped holes (see sketch "Feature-Hole"). Missing signal pulses inform the control system, that something is wrong…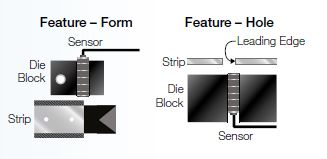 Such sensors are available in many form factors and sizes.
Slug and scrap control
Quite often punch holes are to be created in the product. The slug or scrap must be moved out of the die to avoid any mechanical damage. Ring sensors or photelectric sensors detect whether it has fallen out of the die.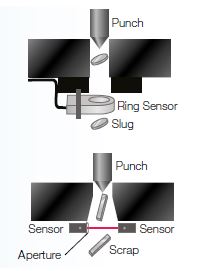 Examples: Ring Sensors BES IKV / IKVS 
The most suitable sensors and accessories like apertures should be selected by application tests with the objects which have to be detected. 
Part control
After the stamping process it is important to know whether the product is ejected properly to avoid damage in the next stamping cycle due to a accidentally clamped part in the die. A so-called window sensor detects objects which fall through it's frame and that way controls the part movement out from the die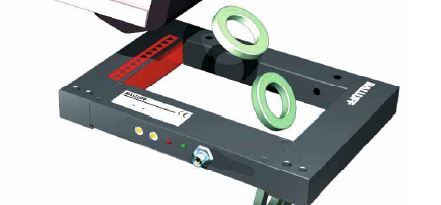 Depending on object sizes several window/frame dimensions can be selected
Variety of Window Sensors
Die connection
How to transfer the sensor signal to the control system ?
Cable Connectors for harsh environments provide reliable data transfer. Via junction boxes signals of several sensors are collected and forwarded to a control system.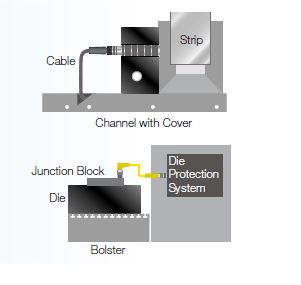 Industrial M8 and M12 connectors
A control system like a PLC then has the task to recognize errors and to trigger the immediate stop of the stamping process in order to protect the whole press equipment including the die.