Self Awareness
For monitoring functionality in industrial processes two aspects are relevant: Environmental awareness and self awareness. Environmental awareness analyzes impacts which are provided by the environment (e.g. ambient temperature). Self awareness collects information about the internal statuses of (sub)systems. The diagnostic monitoring of industrial processes which are dynamic typically is  not as critical as the one of static situations. If you have many signal changes of sensors due to activity of actuators, with each plausible sensor signal change you can be pretty sure, that the sensor is still alive and acts properly. A good example is rotation speed measurement of a wheel with an inductive sensor having many signal changes per second. If the actuator drove the wheel to turn but the sensor would not provide signal changes at its output, something would be wrong. The machine control would recognize this and would trigger machine stop and inspection of the situation.  
Inductive Sensors with self awareness
DESINA
For level sensing applications in cooling liquid tanks of metalworking applications pretty often inductive sensors with self diagnostics are used. The inductive sensors detect a metal flag which is mounted to a float with rod fixation. Schematic sketch see below

Additionally to the switching output these sensors have a monitor output which is "high" signal when the sensor status is ok. In case of e.g. short circuit or sensor coil damage the monitor output will be "low" signal.  This type of so called DESINA sensors is standardized according to ISO 23570-1 (Industrial automation systems and integration – Distributed installation in industrial applications – part 1: Sensors and actuators). More information about DESINA
Technical data of such a sensor: BES05F9
Dynamic Sensor control
Another approach is the DSC – Dynamic Sensor Control. Rather than using an additional monitoring output, this type of sensors provides impulses as long as it is "alive"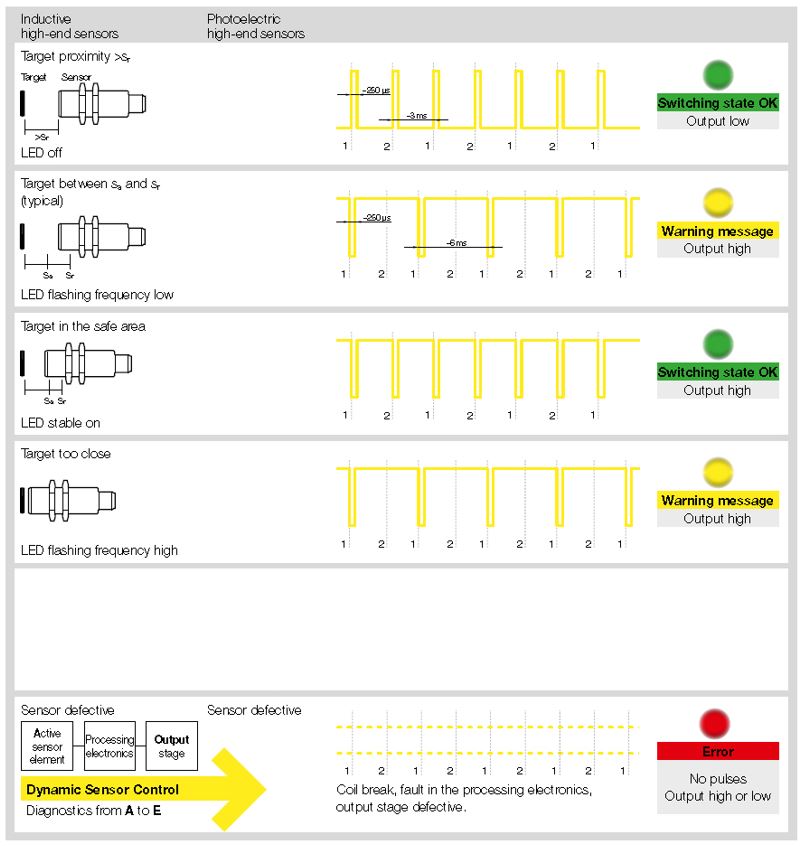 The sensor output provides information about the position of the target with reference to the sensor as well as status diagnostic of the sensor itself.
More sensor information BES03EL
IO-Link
With IO-Link communication even teaching of defined switching distance can be realized. The IO-Link concept allows to distinguish between realtime process data (like target in/out of sensing range) and service data which may be transferred with a lower update rate (in the background of the real process).
Here you find an example of an inductive sensor with IO-Link functionality:
Overview of sensors with diagnostic functionality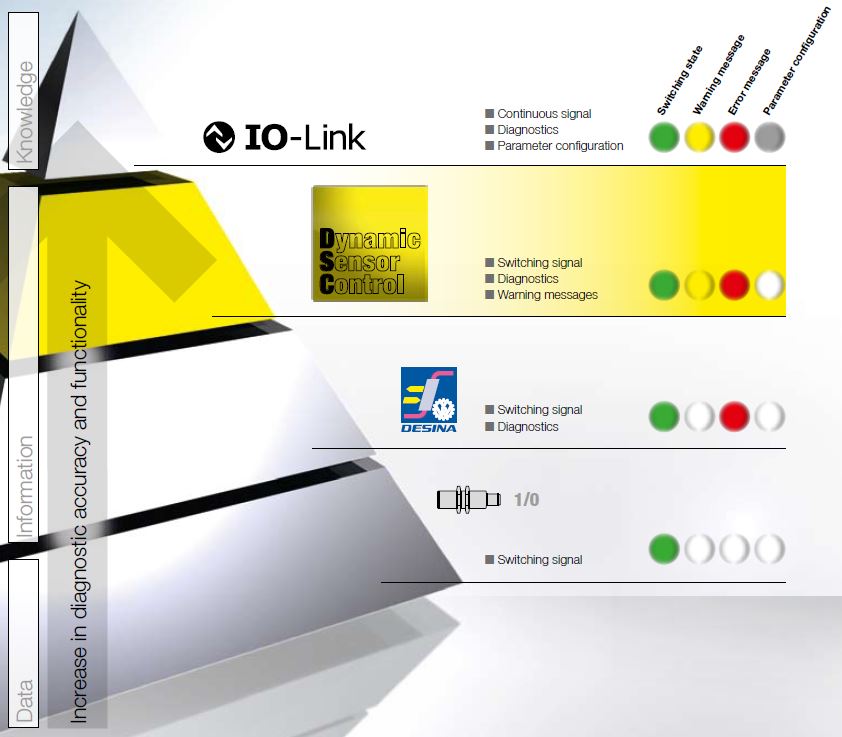 More information about Monitoring: