Experts more and more promote "cloud solutions" in industrial production. So it may be a good moment to look into the pros and cons of classical "on premise solutions". We look into the example of tool identification systems.
One of the pillars of the third industrial revolution are CNC Computer Numerical Controlled machines. In the 1990s Computer Integrated Manufacturing CIM came up in machine tools and therefore a key element was to automatically transfer the tool dimensions to the CNC.
Example of Metalworking
A tool presetter measures the real tool dimensions (like tool diameter or better tool radius) and in addition calculates the offset for the tool path. Subsequently these tool data are stored directly at the tool holder by using RFID data chips.

RFID Chip at tool holder
This way in a first step RFID chips transfer the relevant data with the tool itself to the machine tool. Secondly the machine control reads them out. Thirdly the machine tool uses the tool data in the cutting/machining process.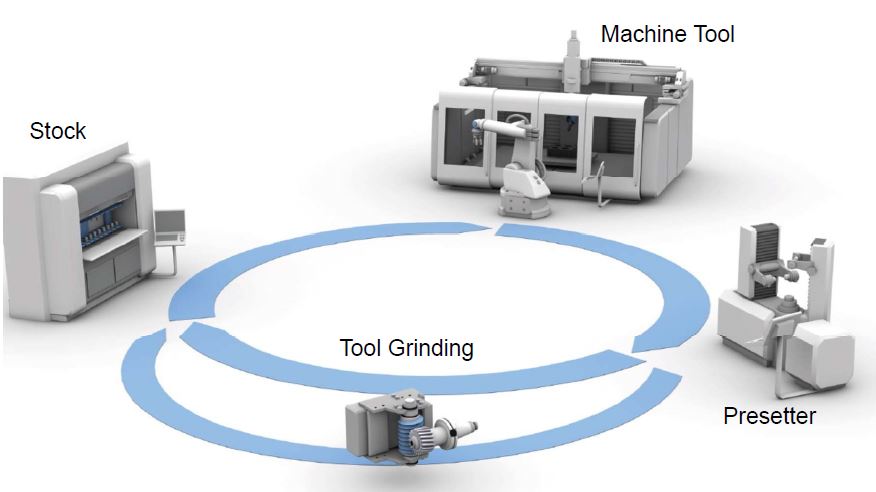 Tool cycle in Metalworking production
In conclusion the tools are moved in a process circle of presetting, stockage, and machining. Addtionally the tool grinding is executed if the tools show up with worn out cutting edges when being inspected at the presetter.
Information Levels
Communication between sensors/actuators, Network and PLC needs to be in realtime in order to control the machines in production in a reliable manner.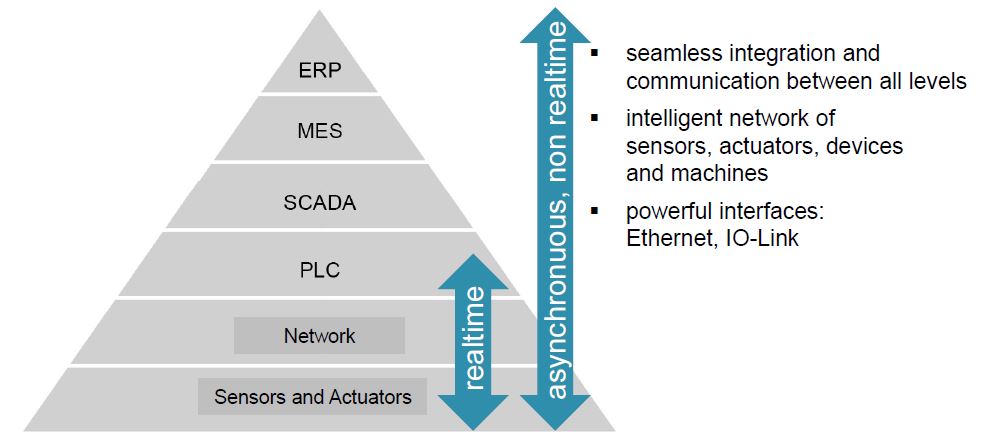 The IIOT 4.0 Factory
Procurement processes (typically executed on ERP level) are not as time critical, so a minor delay of info transfer in most cases will be acceptable.
Depending on the philosphy the machine tool user stores all the tool data in a "decentralized approach" directly on the RFID chip. Furthermore the RFID chips are attached to the tool / tool holder combination. However a "centralized approach" will mean that the tool data are stored "in the cloud". In other words the RFID chip only provides an identifier to distinguish between the different tools.
Link to info about tool management
Advantages of decentralized tool data storage:
Realtime availability of data even when server is not connected. Consequently higher production performance.
No risk of remote access to the machine control, therefore higher security.
Only one investment at start up of production, or to put it in another way: no ongoing expenses for maintenance and update of cloud infrastructure
Advantages of centralized data storage
No data silos, bigger pool of data which facilitates data analytics
best practice analytics possible
Example TOOL ID RFID chip (with 32 Byte read/write memory) for centralized data storage: LINK
Summary:
In conclusion it has to be carefully evaluated whether to use decentralized or centralized storage for data when they are highly relevant for the production process. Only if the permanent availability and correctness of data is ensured the manufacturing and its Overall Equipment Effectiveness OEE can be optimal. The concept of hybrid data storage (centralized storage for logistics data and decentralized storage for machine control data) offers the best of two worlds